The Project
Goose Foot Street Furniture was selected by Lancashire County Council and the urban architects Planit-IE to design and manufacture nine bespoke, four metre long seats. These iconic seats are located in the Fishergate Central Gateway Project, Preston and also outside the railway station.
In addition, we supplied a further 7 Emperor seats for Phase 2 of the development in 2015 as well as 2 bespoke tree seats.
The project focuses on the delivery of a high quality public realm with re-configuration of key gateways to enhance the overall attractiveness of the City Centre as a viable business location, and act as a catalyst for private sector inward investment.
One of the main themes of the project is to focus on creating a sense of place by enhancing the City Centre's architectural heritage with new, vibrant built environment to bring Fishergate into the 21st century.
Goose Foot is proud to have been chosen as a key partner in the city's ongoing regeneration.
The Outcome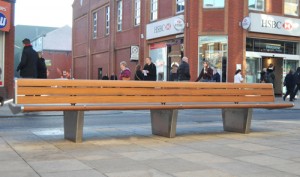 Preston City Centre has seen many benefits as a result of the Fishergate Central Gateway Project, which has significantly improved the main approaches to the City Centre.
In total, Lancashire County Council ordered 9 of the iconic seats which are placed evenly throughout the new scheme. Designed and manufactured by Goose Foot in their state of the art facility in Darwen, Lancashire, each seat measures 4m x 1m and constructed using marine grade 316 stainless steel and ethically sourced supplies of Iroko.
Working closely with the County Council and Planit-IE on the initial design, the focus was to incorporate all feedback and produce seats that are eye catching, hard wearing and extremely comfortable.
Widely recognised as one of the fastest growing street furniture companies in the UK, Goose Foot continues to offer both bespoke and off the shelf furniture solutions across the public and private sectors.
Councillor John Swindells, Deputy Leader of Preston City Council, said: "The new tree-lined Fishergate, with its wide pavements and contemporary, clutter-free spaces is a huge improvement. It is a much more attractive place to spend time as a pedestrian and I'm sure that it will be a real boost for the commercial heart of Preston."

About Goose Foot
Goose Foot is a street furniture specialist. As an original manufacturer, we can also design and custom-build products to your specifications, in batch orders or as one-off bespoke street furniture products. If you can't find what you're looking for within our range, contact us today so we can come up with bespoke a solution that will meet your needs.
read more