WEC Group worked closely with Kin Design to produce a stainless steel outdoor seating installation for the ITV HQ at Media City in Salford. The installation also features an interactive colour wheel, which staff and the public can use to interact with a logo sitting on top of the building.
The Project
It's been a busy period of change for ITV, from completely rebuilding and moving the Coronation Street set and production studios to launching their brand new corporate identity. ITV wanted to find interesting ways to increase its visibility around Media City.
Our parent company WEC Group worked closely with Kin Design on this bespoke street furniture project, to develop an outdoor seating area that was not only functional, but sculptural and interactive.
The Outcome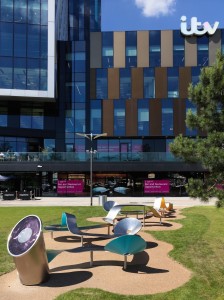 The 16m long stainless steel 'ribbon' was formed and fabricated over a period of 8 weeks to match Kin Designs' 3D CAD model. The sections were individually polished to a uniform super satin finish including the blending and dressing of all the welded joints. For the installation, the sections were lifted into place using a 100t Hi-ab crane, positioned, fixed to the ground, welded, re-polished and painted on site.
The stainless steel ribbon was inspired by the curved form of ITV's new logo, twisting and turning to create seating spaces, lean-to "bar" like spaces and reclining spaces which have all been tested for ergonomic comfort. The installation sits in the piazza area of Media City in front of the ITV building, a space open to staff and the general public for them to meet, eat, chat and interact with each other. Anti-skateboard nodules have been developed and added to the side of the sculpture so it is not misused.
The underside of the sculpture is painted in the ITV colour palette, and at the end of the ribbon there is an interactive terminal with a touch-screen and a colour wheel. People are encouraged to customise the ITV logo by filling the colour wheel with different colour combinations. When the visitors are happy with their final design, it is then transmitted to the 5m high ITV logo on the top of the building in front of them. Bespoke software means that Hue Saturation and Lightness (HSL) values can change the red, green and blue LED lights in the logo.
The customised design can then be uploaded to their personal Facebook page or Twitter, all directly from the touch screen of the pod.
About Goose Foot
Goose Foot is a street furniture specialist. As an original manufacturer, we can also design and custom-build products to your specifications, in batch orders or as one-off bespoke products. If you can't find what you're looking for within our range, contact us today so we can come up with bespoke a solution that will meet your needs.