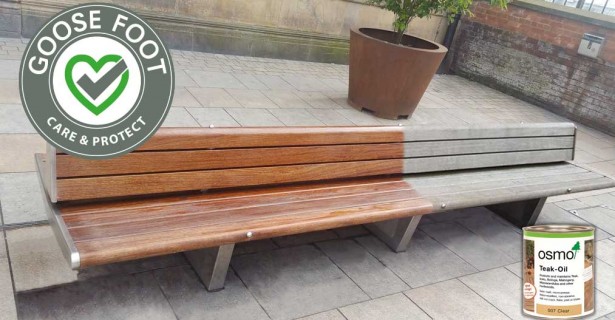 Schedule of routine maintenance for Iroko Timber Slats
Iroko is a highly durable hardwood that is both insect and rot resistant, making it the ideal type of wood for street furniture products.
To prevent Iroko slatted seats from staining, aging or discolouring, teak oil can be used as a protective measure to repel water and shield the wood from sun and weather.
Generally, it contains boiled linseed or tung oil as the main ingredient as well as mould inhibitors and chemicals that filter harmful ultraviolet rays.
We recommend the following routine is carried out every six months, preferably in spring and autumn, to help the Iroko reach its full service life of around 30 years:
– Wash the surface with a commercial wood cleaner to remove dirt and stains. If the wood was previously sealed, sand the surface with fine-grit sandpaper to remove the varnish, polyurethane or other wood sealants prior to washing
– Rinse the surface thoroughly and allow it to dry completely. Drying times vary depending on temperatures and outside weather conditions.
– Dip a lint-free cloth, soft natural-bristle paintbrush or short-napped roller into the teak oil to saturate, and apply it to the surface following the wood grain.
– Allow the teak oil to sit on the wood surface according to the manufacturer's directions, generally 15 minutes to one hour, depending on the brand.
– Rub the surface with a clean lint-free cloth to remove excess oil, following the wood grain.
– Repeat as necessary to achieve the desired finish. Allow each coat to dry for four to six hours between applications.
A range of our timber slatted seats, including the Emperor seat, are made using ethically sourced Iroko slats.
Our range of timber slatted seats also include the Lander seat with a mild steel frame and the Magellan timber slatted seat with a satin polished stainless steel frame.
If you would like to discuss your street furniture requirements, or if you would like some advice about how to care for Iroko street furniture products, please feel free to contact us today.