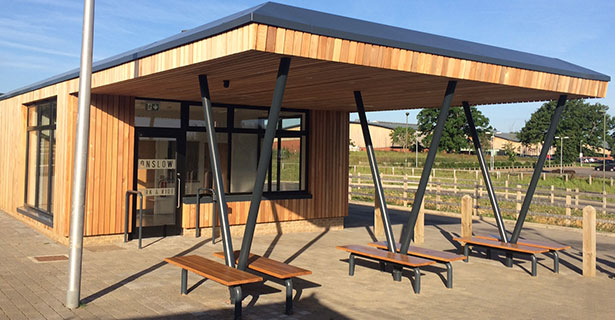 The Project
MCS Construction approached Goose Foot Street Furniture with an initial design by BBM Sustainable Design Architects, to determine if we could manufacture six bespoke outdoor benches for the new Onslow Park and Ride shelter in Guildford.
The new shelter consists of an indoor and outdoor waiting area, including external street furniture, which has improved the overall aesthetics of the area and provides a practical seating option for the public. 
The Outcome
We manufactured the six 1635mm x 450mm benches in-house using our laser cutting, fabrication and powder coating facilities. The benches comprise of a fully welded, mild steel frame which have been hot dip galvanised, fettled and polyester powder coated with timber slats fastened from underneath.
As an alternative to Iroko hardwood, the client chose to have Sweet Chestnut wood which we managed to source successfully and to budget.
Gary Henderson, Business Development Executive at Goose Foot said: "We were delighted to be asked by MCS to manufacture the bespoke benches for the outside waiting area of the new Onslow Park & Ride building.
"We are often required to work with a variety of materials, so the request to use Sweet Chestnut timber as opposed to some of the more popular hardwoods proved to be no problem at all.
"The result was six very durable, robust and stylish benches that enhance the project and provide the public with a comfortable seating option."
About Goose Foot Street Furniture
With over 30 years' experience in the industry, Goose Foot is widely recognised as the go-to steel fabricator of street furniture solutions for urban realm and regeneration projects across the UK's public and private sectors.
We work closely with landscape artists and architects, building contractors and local authorities to custom-build furniture to your specifications, either in batch orders or as one-off bespoke products.