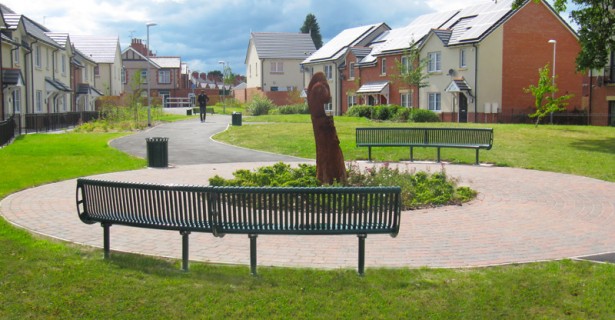 The Project
Goose Foot was selected by Anwyl Homes to work together on the Kingsmill Road development in Wrexham. For this Wales & West Housing project, we provided a range of furniture that is both rugged in design and effective in look and feel.
Anwyl chose the Tula range, which includes curved and straight modular seats together with two Goose Foot signature litter bins.The colour coated mild steel street furniture has been purposely engineered to endure all weather conditions and to provide excellent support.
The Outcome
Located in the central courtyard at Kingsmill Road, these seats take pride of place and allow for a stronger network of open space. The local residents are delighted with their new facilities and opportunity to mingle in comfort with their neighbours. The seating was designed to mirror the surroundings of the open space and act as a catalyst for local regeneration.
Graham Wood, General Manager of Goose Foot, commented on the project: "As one of the fastest growing street furniture manufacturers in the UK, we were delighted to be chosen by Anwyl to supply all the street furniture into this development.
"Wales represents an important growth area for the company, and we feel that with our extensive range of off the shelf products and unrivalled bespoke attributes, we can continue to supply street furniture solutions across the North and South."
Goose Foot was launched in 2014 as a one-stop-shop for street furniture, offering the highest quality products at the most cost effective prices.
The design, build, fabrication and powder coating all takes place in-house at Goose Foot's dedicated manufacturing facility in Darwen, Lancashire, meaning there is never any hidden costs or 3rd party mark-up on prices from the end supplier.
By managing the whole process in-house, you can be assured that the final price will be far more competitive than other mainstream suppliers. Contact us today to discuss your street furniture requirements!