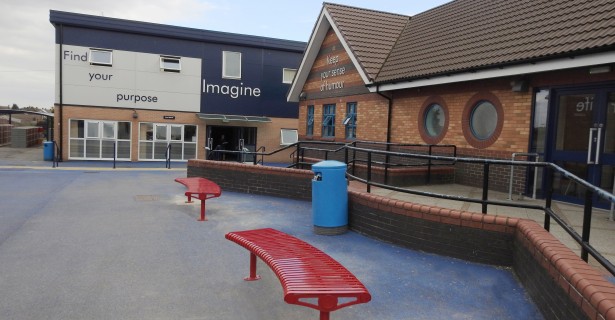 The Project
Goose Foot Street Furniture designed and manufactured 10 curved Tula benches and 9 bespoke Tula tables for Frederick Gough School in Scunthorpe.
Staff at the school wanted to provide outdoor seating areas and improve the aesthetics of the playground, in addition to creating an outdoor eating option for pupils.
Going forward, the staff met with the Student Council and provided options for the pupils to decide how they wanted their areas to look. The request was made for the benches to be curved, without backs and for them to be placed around the perimeter of the playground.
The dining tables needed to be of a height that enabled the pupils to stand and eat together.
The Outcome
Each of the 1800m long bespoke benches were manufactured using galvanised mild steel and powder coated in-house to match the school colours; red, grey and blue.
The curved radius was determined by a curved painted feature on the playground surface. Gary Henderson, Business Development Executive at Goose Foot said: "We designed the radius of the benches to blend in with the curved feature, providing an aesthetically pleasing series of rest and relaxation positions for the students."
The bespoke Tula tables were then designed and manufactured following the exact same style, material and colour range of the benches but with extended legs to bring the table height up to 1150mm from the floor.
A spokesperson for the school said: "Although only recently in situ, the tables and benches appear robust and aesthetically attractive and will hopefully give good service long into the future."
The benches were scattered around different parts of the playground and the tables installed immediately adjacent to the main indoor canteen area, providing easy access and space for up to 54 pupils to use comfortably.
About Goose Foot Street Furniture
With over 30 years' experience in the industry, Goose Foot is widely recognised as the go-to steel fabricator of street furniture solutions for urban realm and regeneration projects across the UK's public and private sectors.
We work closely with landscape artists and architects, building contractors and local authorities to custom-build furniture to your specifications, either in batch orders or as one-off bespoke products.
We also specialise in the manufacture of bandstands, gazebos and picnic sets for parks, playgrounds and public spaces. Recognised as focal points in urban environments, these contemporary or traditional structures can be off the shelf or completely bespoke.