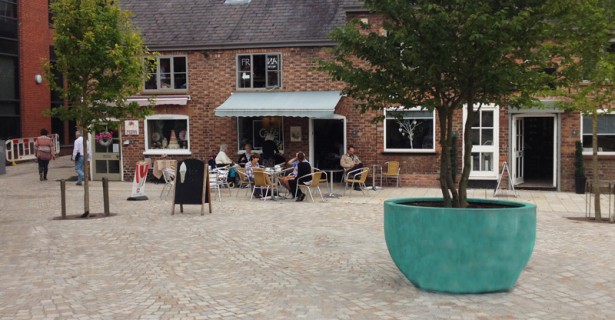 The first phase of a £6m public realm improvement project to transform the appearance of Altrincham town centre has been completed.
The Project
The public realm project led by Altrincham Forward to transform the appearance of Altrincham town centre has converted its vehicle-dominated streets into a pedestrian-friendly environment, encouraging footfall, engagement and dwell time.
The three-year development includes new street paving, the planting of more trees, wider streets, additional seating areas as well as gateway spaces to mark the entrance of the town.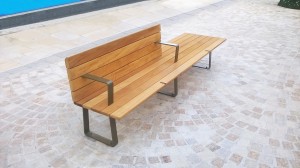 We were selected by landscape architects Planit-IE to produce 25 bespoke tree grilles and 8 contemporary style 2.6m seats for the town centre.
Each tree grille was manufactured, powder coated and laser cut in-house. Unique touches to the tree grilles in Goose Green include laser cut geese footprints and the inscription "Altrincham Market Town 1290" elsewhere in the centre.
The final tree grilles were cut from 304 Grade Stainless Steel to ensure the smaller lettering as crisp and clear as possible.
Available in a wide range of sizes and specifications, our standard and bespoke tree grilles are manufactured in-house to complement any scheme, whether it's an ultra-modern or traditional development.
All eight bespoke seats installed throughout Altrincham town centre were manufactured using hot dip galvanised and powder coated mild steel, incorporating 45mm thick Iroko slats with a half bullnose to the underside. The mixture of benches and seats were spread uniformly across the town centre.
In addition, we supplied 12 bespoke mild steel cycle stands powder coated in 2525 Bronze. The cycle stands feature intricate laser cut designs such as a figure of a bicycle and swirls to fit with the surrounding landscape.
There was a high demand for cycle stands from residents and visitors in Altrincham, and since they have been installed we have received many positive comments.
About Goose Foot Street Furniture
A significant amount of the work we do involves regeneration projects with local councils and products designed by landscape artists and architects. As an original manufacturer, we are able to custom-build street furniture to your specifications, in batch orders or as one-off bespoke products.
With more than 30 years' experience in designing and manufacturing all aspects of street furniture, Goose Foot are recognised as the 'go-to' steel fabricator for urban realm work.
To discuss any requirements for your public realm project, please contact us today.